Hotel Info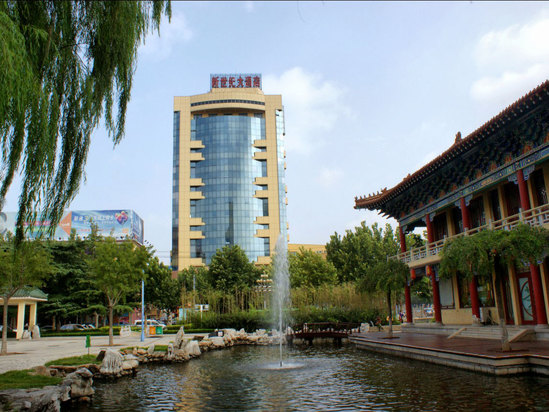 New Century Hotel Laizhou
is located at the intersection of Wenhua West Road, Laizhou South Road and Wenhua West Street; Liqun Hadong Park, Laizhou Museum, qianfoge zoo, etc. are convenient for travel.
The hotel is a foreign-related hotel integrating accommodation, catering, entertainment, business and tourism. It is a member of the international Golden Key Hotel Alliance, a golden leaf green hotel, a top ten star hotel in Yantai, a famous restaurant in Shandong Province, a member of China Tourism Hotel Association, a national five Diamond Restaurant, and a 'hotel breakfast Award' selected by Internet reputation of high-end hotels in 2014.
The hotel has more than 100 guest rooms and 8 conference rooms of various sizes. With advanced facilities and perfect functions, the hotel can receive 100-300 people for meetings of various sizes. Haiwangfu cafeteria on the second floor, with fashionable and elegant layout, fulitanhuang, more than 300 kinds of dishes from all over the world, open kitchen, all kinds of Chinese and Western food, super luxury seafood buffet, taste classic cultural food, and satisfy the taste buds.
Shengshifu wedding square on the third floor of the hotel is a large wedding square specialized in wedding etiquette and wedding banquet services in our city, just to give you the sweetest and romantic love atmosphere. Century coffee Western restaurant is elegant in style and warm in environment, which creates excellent product quality, fast and excellent service, elegant and pleasant dining environment and value for money enjoyment for customers, making every guest feel warm at home.
The hotel adheres to the business philosophy of 'honesty first, reputation first, quality, service, health and value'; To 'family care, meticulous' as the service purpose, with the spirit of continuous exploration and innovation, committed to providing customers with perfect service and unremitting efforts.
Breakfast price
: CNY68($10.0) / person
Breakfast time
: 07:00-09:30
Breakfast type
: Buffet (Western, Chinese)